Discover the World Around You: Play Agents of Discovery
Looking for something to do? Celebrate salmon this year by taking a hike with Ruby the Red Salmon to discover a secret world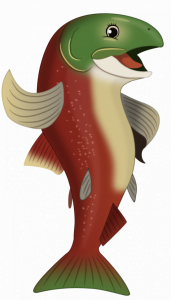 hidden along what may appear to be a familiar trail. Uncover the mysteries of nature along Haystack Trail, mile 18 Copper River Highway. Join Agent Ruby to unlock hidden geo-located challenges that can only be solved through exploration and discovery within the mobile app Agents of Discovery®. Secret Agents of all ages have joined the award-winning mobile gaming application along trails, parks, visitor centers, and museums across the country, and the mission has come to Cordova. To play, simply download the Agents of Discovery® app, find and download the "Haystack Trail Mission," and hit the trail.
During Jamminn' SalmONLINE week the U.S. Forest Service released new challenges in the Agents of Discovery app that can be played anywhere! New challenges will be released every week on Tuesdays. But that's not all! Every week, one player who has completed all the challenges will win a fun prize! You can enter to win by screenshotting your progress and sending it to us by email or through social media. Don't miss this opportunity and download the Agents of Discovery app to play the "Trigger Tuesday" Mission!
Studies have shown that outdoor experiential learning activities correlate to significant gains in student academic performance. There are more than 60 different Agents of Discovery mission sites across the U.S. and Canada. For more information on downloading the app and Agents of Discovery visit the Chugach National Forest Website. Enjoy your national forest, and never stop exploring.