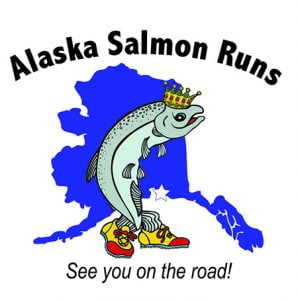 Alaska Salmon Runs
Plan to join us on July 20, 2024!
The word "inspire" comes from the Latin root "inspiratus," which means "to blow" or "breathe into." This is what Irene Webber did when she ran the first King Salmon Marathon, on her own, in 1986.
With her perseverance and enthusiasm, Irene created an event in which all of us have been inspired to take part. Her motto, "See you on the road!" means just that, as she encourages others to live a healthier life. Our Alaska Salmon Runs honor the salmon, the keystone species of our daily lives in this commercial fishing village and the anchor of our surrounding ecosystem.
Cordova is surrounded by extraordinary ecosystems that combine to form one of the world's most spectacular natural environments and host to a thriving wild salmon migration. We now host participants from all over the world, and in one of Alaska's most beautiful and friendliest communities. We have welcomed runners from Japan, Australia, Brazil, Norway, and several states in the continental U.S.A such as New York and Florida – plus many more. Some people come back year after year, and we hope that you will do the same. Our salmon runs are dedicated to the five species of salmon native to our area.
T-shirts and race bibs/timing beacons will be available for pick-up at Bidarki Recreation Center at Race HQ starting on June 24 and at the CCMC parking lot. Runners may pick up their race bibs at Race HQ the day of the event, but registering prior to race day is encouraged.

Race headquarters is the hospital parking lot of the Cordova Community Medical Center on Chase Avenue.
Runners for all distances will start and finish at the CCMC parking lot. Certificates are available for all finishers.

Are you able to help put on this event by volunteering?  We need help with water stations, registering runners, timing runners, setting up and taking down Race HQ, providing baked goods for runners, and shuttle drivers.  Sign up here to volunteer, and receive a $5 discount on Salmon Jam admission!
Alaska Airlines travel discount code for 2024: to be announced in February, 2024.

Enter this code at alaskaair.com when searching for flights.
| Distance | Shuttle from Hospital Parking Lot | Race Start Time | |
| --- | --- | --- | --- |
| King Salmon Marathon | 6:15 a.m. | 7 a.m. | |
| Sockeye Half-Marathon | 9:00 a.m. | 9:30 a.m. | |
| Coho 10K | 10 a.m. | 10:30 a.m. | |
| Humpy 5K | 10:15 a.m. | 10:45 a.m. | |
| Smolt 1 Mile Fun Run/Walk | Race starts from hospital | 11:15 a.m. | |
See you on the road!


Race Founder Irene Webber, 1937 – 2018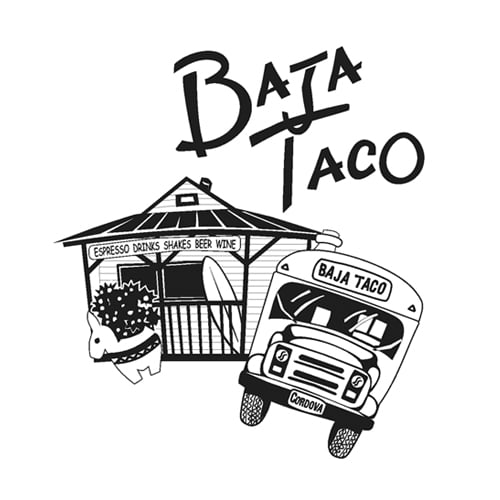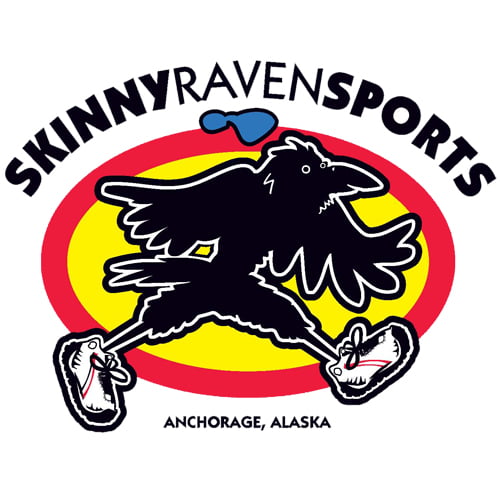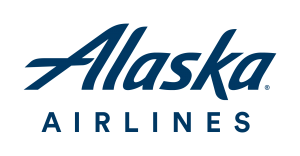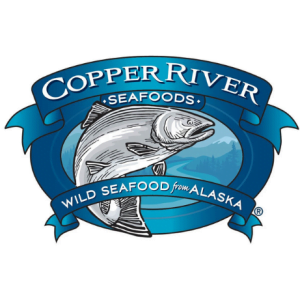 Course Description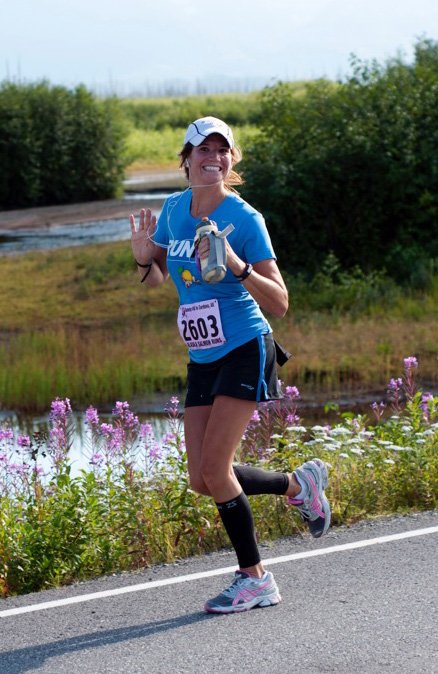 This is a point to point course that traverses the Copper River delta where runners are treated to soaring views of mountains being carved by glaciers, wildflowers, and blue water rivers and lakes. For each distance event (except the One Mile), runners meet at Race HQ and are driven on shuttle buses to the start line of their respective races.
The race course is mostly flat (we're at sea level), and follows the old Copper River railroad route which led to the Kennicott Copper mines. The marathon starts at 27 mile bridge – one of the many bridges that span the Copper River. The first half of the course is gravel road – with little to no traffic. Because the area is still wild, moose and bear are occasionally seen from the course. For safety and water support, marathoners will be followed by a public safety vehicle driven by trained EMTs. Runners pass the "Mudhole Smith" airport at mile 13. Paved road then spans the Copper River delta, lined with beautiful wildflowers, including lupine, nagoonberry, fireweed, and Alaska's State flower, the forget-me-not. The last 10 km are run along the blue waters of Eyak Lake. June temperatures range from low 50s – 75 F.
Water stations are located along the course every 4 – 5 miles, starting with mile 5 of the King Salmon Marathon. A porta-potty is located at mile 16 on the marathon course (mile 4 for the half-marathon), and USFS bathrooms are also located at mile 5 on the marathon course (upper Alaganik River boat launch) and mile 20 on the marathon course, mile 8 on the half-marathon course (Eyak River boat launch).
Awards